Castro Premiere of My Brother's Shoes! What a night!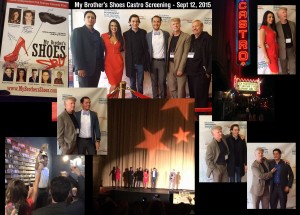 We played our film to a full house. Most of the cast was there. The audience was great. They laughed, they cried, they begged for more!!
Afterwards we had Q&A and they got to meet the cast who were present – Gretta Sosine, Jacob Ellis, Blake Fiegert, Robert Vann, Donna Sachet – and then we all hit the red carpet for photos and autographs and selling of copies of the film to anxious fans.
Then on to a local pub where we had drinks and toasts and dancing and celebrating.
This film is great. The cast is great. This is going places!!