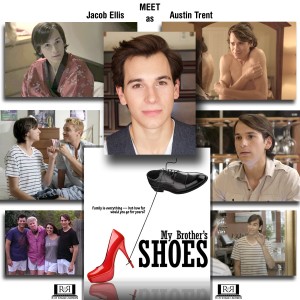 We are pleased to introduce you to Jacob Ellis who is playing the role of Austin Trent. Austin is the younger brother of Dallas Trent, who is struggling with making a living, finding love, and learning what true happiness means.
We asked Jacob some questions in order to get a little more inside of who he is and how he prepped for the role of Austin Trent.
Q: What do you find about acting – and especially film acting – that has made you pursue this crazy art – even if this is a first for you?
A: Acting is the only outlet that really satisfies my need for creativity. It's really just my selfish way to have fun and make money at the same time.
Q: When presented with a character to play, obviously you have never encountered this specific character that only now exists in the script you have been given. How do you bring the character to life and create a believable person from nothing?
A: I'm a strong believer in the script. The lines ARE the character and all you need to do is understand why your character is saying them. Once you understand why you're saying what you're saying, the rest is just listening to the other actors and reacting appropriately.
Q: Do you enjoy seeing yourself on the big screen?
A: I have a love-hate relationship with myself on screen. As an actor, all i see is me pretending to be somebody else and it's because I lived in that moment and know that's it's fake. But there is this wonderful satisfaction that I get when I see my face on a big screen that people are staring at which definitely makes up for the former.
Q: Independent films are shot very quickly and sometimes things you wish you could have (more rehearsal time, your own dressing room with a star on it, more input on the set, etc.) are not an option. What do you wish you could have had in this film? And what keeps you doing independent films?
A: Being that Adam Reeves was the writer and director, he had a very specific way in which he wanted my character to come to life. On the first day of shooting, Adam had me go over lines with him and after hearing my interpretation, he gave me a nudge in a different direction, e.g.: 1. He would suggest where I would put the stress in a sentence. 2. He would give me a clear and specific line read. The only thing that I'd have wished for would have been a bit more time to talk with Adam about my character before shooting started. My love for this craft and the passionate people that work in the field is what keeps me motivated. This is what I love to do.
Q: When playing a character, some actors create a whole back story in order to give them a full life. Tell us something about your character that is NOT in the script that made you feel more in touch with them on a personal level.
A: When Austin was a little boy, he hit Dallas on the side of the head with a plastic bat because Dallas said "Nice pink bat, sissy" Austin then cried after Dallas fell to the floor.
Q: After auditioning, how did you feel when you heard you got the part?
A: I was overjoyed to hear that I had landed the role! With that, also came a paralyzing realization that I had to memorize 100 pages of script in just a couple of weeks. And that was on top of my schoolwork and another script for a college play. But I mostly felt joy.
Q: Family and friends will see the film because you are in it. What is it about the story of the film that would motivate you to tell others they "must" see it?
A: There are two reasons that my friends and family must see this: I've only done dramatic films in the past and this will be my first ever comedy. This is my first feature length film. I had such a fun time working on this film. The cast and crew were great to work with and I'm looking forward to the seeing them again at the premiere.
Jacob's Bio
Jacob Ellis discovered his love for acting in High School, and has since been in a number of theatre productions on the bay area including "Danny" in SideReel theatre production of A Contemporary American's Guide to a Successful Marriage and "Orlando" in Cabrillo's production of As You Like It. He recently began pursuing a film career, his debut film appearance being in the television show Campus Crimes and will soon begin shooting for another feature Can't Thread a Moving Needle. This will be Jacob's first starring role in a feature film and he couldn't be more thrilled to be working with such an interesting and unique project. He is excited to have a chance to bring Austin to life this summer.